"...do justly, love mercy, and walk humbly with thy God." (Micah 6:8)
Welcome to the Peoples Church!
Services at 10am Sunday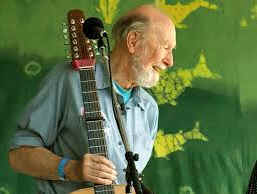 This Sunday, 1-3:30pm, Kristin Lems and other musicians will honor the life of Pete Seeger with a concert and sing-along here in the auditorium of Peoples Church. The event is free and open to the public.
The tribute will include children's musician Ella Jenkins, 89, Grammy Lifetime Achievement Award winner, and artist Peggy Lipschutz, 95, who created the triptych oil paintings, including Seeger, that hang in the lobby of the Armitage branch of the Old Town School of Folk Music.
Besides street parking, the lot at 850 W. Lawrence is available for concert parking.
For more information, call Kristin at 773-865-0393.

Are you looking for a spiritual home, a place to make social justice, a place to practice the love Jesus taught? Do you want to be able to keep your mind and your curiosity alive, while you are spiritually nourished?

Perhaps you've noticed the sign attached to one of our trees out front - we have decided to seek a zoning change, to allow more artistic and other activities to take place in the building. We are working to ensure that existing uses of our space can remain active and viable, even as new uses are created.
We are simultaneously seeking Landmark status with the City of Chicago, to protect this historic building as we move into a changing future in Uptown.
We are excited about the possibilities developing here, and welcome your support for this church and for its beautiful building. If you would like to make an on-line gift, click "Support Us" or the link in the left column. Your gift is tax-deductible, through the Preston Bradley Center, the 501(c)3 arm of the church.

Come see the beautiful auditorium... available for weddings, meetings or musical events...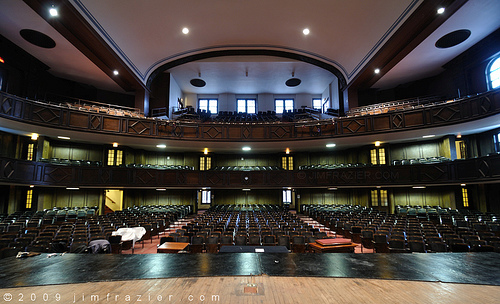 Check out Jim Frazier's other photos of the church.

Worship: