"...do justly, love mercy, and walk humbly with thy God." (Micah 6:8)
Welcome to the Peoples Church!
Services at 10am Sunday
Easter
Easter morning you're invited to an all-church potluck breakfast at 9am - just bring a dish of food to share! The Easter (communion) service follows at 10 a.m., with special music from the Peoples Church Voices of Praise, as well as our other fine musicians.
Tie a Knot campaign
Also, don't miss the latest party! Saturday, May 17, 2014 12:30-3:30, we're hosting "Baseball and Hot Dogs" at Ollie's Lounge on Berwyn. Lots of raffle prizes and all you can eat of all-American food! See the party page for details.
Landmark Status
We are interested in getting Landmark status with the City of Chicago for this beautiful and historic building. We've created a page to keep you updated on the latest about that request. And you can help!
Are you looking for a spiritual home, a place to make social justice, a place to practice the love Jesus taught? Do you want to be able to keep your mind and your curiosity alive, while you are spiritually nourished?

Come see the beautiful auditorium... available for weddings, meetings or musical events...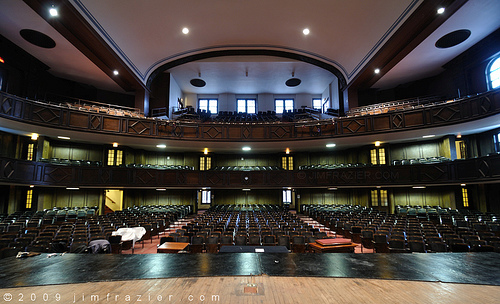 Check out Jim Frazier's other photos of the church.

Worship: