~ ~

Heavens, I haven't been too good about keeping up this page, have I?

Let's see... in January, I traveled to Springfield with other religious and community leaders to lobby for an increase in the minimum wage... If it were the same value as it was in 1968, it would be well over $10 an hour (instead of the measly $8.25 it is here in Illinois, and the really pitiful $7.25 nationally). See some Facebook photos.

Then just this past week, the Preston Bradley Center (our building) welcomed the National Pastime Theater into our building with their first event, a Valentine's Day bash to raise money to renovate their space - take a look at our wonderful Mason Hall on the 4th floor at their website.

Coming up in September:

:: Our annual Labor Day picnic in Margate park, is celebrated September 5, 10am-2pm - with softball, great barbeque dinner, maybe even live music!

Every year Peoples Church serves 5-600 dinners on Labor Day to people in the neighborhood who may not have a home, or don't get enough to eat in the normal run of things, or don't get to spend holidays with their families.

Take a look at our letter (pdf), or click on the "Support Us" link to the left, to donate something towards the cost of this great meal.

:: Check out the Coffeehouse on Friday, September 9, with Michael Smith!

:: And September 11, from 2-4pm, the Treasures of Uptown interfaith group holds a commemoration for the tenth anniversary of that horrific attack, with a focus on peace, and how the world's religions perceive the Golden Rule. For the latest, see the website, TreasuresofUptown.org.

This Saturday, July 30, celebrate the life of John A. Polachek with his family and friends...

Special benefit performance... April 16

Jazz harpist Brandee Younger, fresh from New York City, and friends, perform Saturday, April 16 at a special event - 6pm is a reception with local artists' work and refreshments and a chance to talk with the performers... 7pm is the musical performance.

See more here: Benefit performance

This event benefits this grand project (Peoples Church home), the Preston Bradley Center, where we care for this beautiful historic place, we house and feed the homeless, and we open our doors for Uptown community events.

Feb 7 - Treasures of Uptown interfaith discussion

This Sunday, the Treasures of Uptown interfaith group is proud to present Rev. Taigen Dan Leighton at the Buddhist Temple of Chicago, 1151 W. Leland Avenue, 2pm. He will introduce Buddhist ideas of life and death, and invite reflection on its meaning in our other traditions.

All are welcome! Please see the flier.

January 27: Help End the Death Penalty in Illinois

The Illinois legislature passed the bill ending the death penalty in Illinois, and Governor Quinn is waiting to hear from us about whether he should sign it into law. The letter below owes some of its text to a letter written by 65 retired judges and prosecutors, both state and federal, urging Governor Quinn to sign. (The complete text of their letter and names are attached as a PDF.)

Please feel free to cut and paste - and edit! - your own letter to the Governor, and help bring this outdated practice to an end.

If you'd rather call, the governor's phone numbers are:

Springfield Phone: 217-782-0244
Chicago Phone: 312-814-2121
---------------------
Hon. Pat Quinn
Governor of Illinois
207 State House
Springfield , Illinois 62706
January 27, 2011
Dear Governor Quinn:
As a citizen of Illinois and a friend/member of the Peoples Church of Chicago, I urge you to sign the death penalty abolition bill passed by the General Assembly.
There are several reasons that the death penalty should be abolished.
First, no one should take it on themselves to decree the death of another – this is a moral issue in keeping with our faith's reverence for the gift of life. It is especially damaging for the state itself to adopt this strategy, as it negatively impacts everyone who is involved in the process, by desensitizing them to killing, and separating them as human beings from those who have been convicted of a capital crime. And if the state should be acting corruptly, on behalf on certain groups or people, the death penalty becomes one more tool for tyranny. It has certainly been the case that a disproportionate number of people of color end up on death row.
As an urban church in a neighborhood that suffers its share of gang activity and violent crime, we are deeply concerned, as we know you are, about public safety. But there simply is no credible evidence that the death penalty deters crime. It has also been argued that we need the death penalty as a means of obtaining guilty pleas in exchange for life sentences, but using the death penalty as an instrument of coercion has led to false pleas and erroneous convictions. Limiting the death penalty to particularly heinous crimes – another argument for preserving it – would not solve the underlying flaws that inevitably occur when the authorities are under pressure to win convictions in high-profile cases.
Also, particularly given our state's severe budget problems, it is apparent that we are spending scarce public funds on a punishment that is flawed and rarely imposed. We are living in a time of fiscal crisis. The vast sums that would be spent on the death penalty in the years ahead are sorely needed for other, more effective law enforcement purposes.
After a full and fair debate, our elected representatives have sensibly voted to end the death penalty. I urge you to sign the bill.
Sincerely,
Name: (print)
Address:
Tues, Jan 18, 2011: May God please bless this New Year!
I've seen a number of references lately to Bob Dylan's song, "Subterranean Homesick Blues" - somehow it seems to echo the uneasy feelings many of us are feeling, as this new year gets underway.
Look out, kid,

It's somethin' you did

God knows when

But you're doin' it again
What did we "did"? What have we done for all this anger to be coming down the pike these days? How can we muster enough love to counteract this kind of hatred?
We were horrified by the shooting of U.S. Rep. Gabrielle Giffords and 18 other people in Tucson (six fatally) by a seemingly deranged man. Because she was one of 20 Democrats that Sarah Palin's website marked with gun sights for electoral defeat, people have made the case that such imagery leads people like Jared Lee Loughner to take it as a literal suggestion for action, rather than a metaphor.
It's true that all too many people see metaphors literally - but first, it seems that Loughner was probably not influenced by Palin's website, and secondly, I'm pained at the idea that our freedoms be narrowed to protect us. Can't we look back at how we as a society failed him, and others like him, by failing to intervene when earlier incidents must have raised red flags?
"There's no money in the budget for such things..." "The people are overworked..." "He didn't do anything criminal..." There are all kinds of - very legitimate - excuses why nothing happened.
I hope that we can begin to take better care of one another, somehow. I think it needs to start in schools, when people are young and good things can have more of an impact; but it has to start from an attitude of caring, not of punishment and suspicion.
A Bit of Hope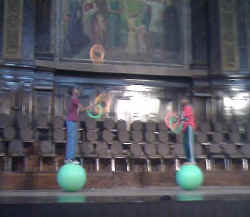 Several things give me hope - yesterday at our Martin Luther King, Jr. Day
There's an organization doing great work.
And our Illinois legislature, in its final hours (from last term) delivered on some powerful legislation that brings tears to my eyes - it voted to abolish the death penalty in Illinois - an outcome I could hardly believe possible - and it voted to increase the state income tax. No one likes taxes, but our state needed to do this, or we might as well have hung up our hats and gone home. I like to think of taxes as an investment in our future. If you don't invest, you ain't gonna get any return!
So, keep looking for signs of hope, for acts of courage, for kindness of strangers... Happy New Year!
peace,
Jean
p.s. And check out my recent sermon from Kwanzaa (Dec 26) that Kristin has put up on YouTube: http://www.youtube.com/watch?v=rDJXFuT1ILk
December 17, 2010: Merry Christmas!
One of my favorite carols of the Advent season is "People, Look East" – it expresses some of the hope and anticipation of Christmas time. "Love, the Guest, is on the way…"
Advent, in the Christian calendar, is a time of waiting, a pregnant pause, so to speak, waiting for Jesus the Christ-child to be born; but also preparing ("trim the hearth and set the table…") for the miraculous, for the holy, to come again into our lives.
In many of the fairy tales I read and loved as a child, the stranger who came to your door was not who he or she appeared to be – a ragged beggar might be a prince; a wizened crone might be a beautiful fairy queen. The lesson often was that you should always be kind and generous, because you never knew who was really knocking.
Giancarlo Menotti's beautiful Christmas opera, "Amahl and the Night Visitors," begins with just such a scene: Amahl, a poor and crippled boy, answers the insistent knock at the door at his mother's urging, only to find a king standing there. His mother doesn't believe him and gets angry, finally going to the door herself to find the three Magi hoping for shelter for the night.
The unexpected knocks. A blessing in disguise! How differently would we act toward others if we saw in every chance encounter the face of God?
Amahl's mother is us – she is everyman – she is beleaguered by her poverty, her fears for her son; she loves him but expects nothing but trouble from him – he lies, he's always late, he's irresponsible; she is filled with envy and wants the royal travelers' gold for herself. In all her weakness she is oh, so human. We see ourselves in her.
This season invites us into our better selves: where we feel envy, to practice generosity; where we blame, to practice forgiveness; where we worry about our future, to practice trust. To not only wait, in this season of expectation, but to practice for a future we want to walk into; by living it now.
May you be blessed with all the closeness of family, all the growth of spirit, all the joy and happiness, that this season can bring.
Merry Christmas! Merry Christmas! Merry Christmas!
Peace, Rev. Jean
Monday, Dec 6: Not quite marriage equality, but closer...
On this, the eve of Human Rights Day (Dec 10), we can cheer that the Illinois legislature passed the civil union bill December 1st - finally some of the rights available automatically to married couples will be available to gay and lesbian couples, including being able to visit one another in the hospital, make medical decisions about their partners, and have legal rights as parents.
The Huffington Post wrote:
The Illinois Religious Freedom and Civil Union Act will also protect the rights of religious institutions to define marriage as they choose, and will be available to any couple, same-sex or opposite-sex, in a committed relationship who are: 18 years of age or older, not in an existing marriage or civil union, and are not related. It would take effect July 2011.
We applaud this advance of liberty for people who only a generation ago had to hide, to love secretly, and to suffer all kinds of discrimination and abuse which was ignored or even perpetrated by authorities charged with serving and protecting us. We as a society have come a long way since Stonewall, the emblematic event in New York City that marked the beginning of the Gay Liberation movement.
And it looks like the "Don't ask, Don't tell" policy will bite the dust soon - some 70% of service men and women say they don't care if a fellow soldier is gay.
It's a good day to celebrate!
peace, Jean
Thursday, Nov 25, Thanksgiving Day
Dear Friends -

I hope you have a wonderful, nurturing Thanksgiving holiday, surrounded by people you love and doing work that is satisfying.

At Peoples Church last Sunday, after the wonderful potluck Thanksgiving dinner we shared, it came home to me how these dinners we share are a form of prayer. The fellowship, the food, the effort and care people have put into the dish they've brought, but especially the feeling we get from sharing our lives...

I look around the table, and see many conversations going on, hear voices raised in animation and interest, see smiles and looks of concern for others pass over people's faces. It's a sacred time, a precious time.

May we have many more.
And may you enjoy such laughing, talking, eating, and contented time on this Thanksgiving Day!

peace,
Rev. Jean
Oct 25:
We raised over $600 for singer-songwriter Anne Feeney at our benefit October 23. Thanks to all who attended, and contributed your presence, your voice, your enthusiasm, your caring spirit! Especially, thanks to Kristin Lems, who organized the event, and to the great musicians who made it a wonderful musical experience:
The Awesome Folk Band, Andrew Calhoun, Brian Cutean, Amy Dixon-Kolar, Niki Leeman, Kristin Lems, and Bitter Melon: Al Day, Charlie Madigan, and Randy Lee!!
September 8: Here's text for a plaque we'll be ordering and placing on the front of the building soon - it only took ten years for us to find out about it!
The Peoples Church of Chicago
As part of the
Uptown Square Historic District
has been placed on
the National Register
of Historic Places
United States Department
of the Interior
2000
Monday, July 12: In Memoriam...
We are sad to note the passing of Lula Bradley, 95, a long-time member of Peoples Church. Services are Friday, July 16: Visitation at 9am, funeral at 10am.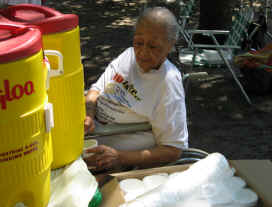 Lula admired Preston Bradley from the South side of Chicago, and moved to the North side in part because she felt a calling to help the church. She was a nurse at Weiss Hospital - and retired long since, of course. She had been living at The Waterford nursing home in Rogers Park. She is survived by grandsons David and Clarence and their siblings and children.
Lula at 93, pouring lemonade for the Labor Day picnic.
Monday, June 14: Hunger Walk coming up June 26
The 2 Li'l Fishes lunch program multi-talented cook and volunteer-coordinator Will Pruitt writes:
Hidden within the diversity of Uptown is a segment of the population too frequently misunderstood, ignored, and sometimes vilified: the At-Risk. Over 25% of the population lives at or below the poverty level. What unites almost all of the At-Risk is malnourishment. Poor diet can amplify problems to a life-threatening level.
The 2 Li'l Fishes lunch program fights hunger among our neighbors in need – we serve about 2000 meals a month, four days a week, year-round; half the people are homeless, the others are simply people whose food budgets don't stretch far enough.
You can help by taking part in the Greater Chicago Food Depository's 25th Annual Hunger Walk this June, raising money for food for this important program. It takes place Sat, June 26, 8am at Soldier Field – register on-line at http://www.chicagosfoodbank.org/, to help the 2 Li'l Fishes program. Look for "Preston Bradley Center," our 501(c)(3) agency.
Tuesday, June 8: Middle East trauma
The small flotilla of boats from Turkey, the grandstanding and threats tossed around, the boarding of the lead boat by Israeli commandos and subsequent killing of nine of the activists... It makes me sick to heart. The activists included a number of famous people, including Nobel peace laureate Mairead Corrigan-Maguire (who founded the Peace People in Northern Ireland during the troubles) and writer Henning Mankell, author of the best-selling Wallander series of crime novels.
My impression is that some of the activists - desperate to change the situation for Palestinians - were committed to nonviolence, while some others had a different agenda entirely - to get the Turkish government to break its ties with Israel. They were not committed to nonviolent action. This second agenda worked.
I think it was naive of people to think they would be able to break the blockade of Gaza with this action. Martin Luther King and the Civil Rights movement were committed to non-violence - they endured incredible abuse, and even death. But the strategy had to include press coverage - to capture a violent response to nonviolent protest. On March 7, 1965, after being denied a permit to march from Selma to Montgomery Alabama, some 500 civil rights marchers went anyway. When they crossed the Edmund Pettis bridge, they were "tear-gassed, trampled, and beaten by state police ...in a horrifying spectacle captured by network television cameras," as Thomas Jackson writes in From Civil Rights to Human Rights.
It is much harder to get press coverage these days - the press is "embedded" in the military, and independent press become targets; the press is blocked from coverage of events; too much of the press is no longer really independent, but depends on approval of the powers-that-be to continue to have access to official information.
But I still believe that the answer lies in nonviolent action, and especially in those actions that are slow, that don't make good photo ops or sound bites - the schools that include both Jewish and Muslim children, the conversations created among Israelis and Arabs - all the cross-cultural work that helps create understanding and sympathy.
On hearing that many Israelis were canceling their vacations to Turkey, one Turkish citizen said, "We can't blame Israelis - this is not the people, it's the government that is doing these things."
We can only pray that more people have such understanding, and work to get our governments to act in ways that lessen tensions, rather than increasing them.
peace, Jean
Monday, May 17, 2010: Gulf Stream Waters
Like everyone else, people in our congregation have been horrified at the gushing of oil into the Gulf, with no end in sight yet, and with fingers of blame pointing every which way. I've heard rumors that the well was being used for production (even though it wasn't officially ready), because it is cheaper to produce the oil that way. We'd like those responsible to own it, to pay to clean it up, and take their responsibility seriously, in the future. We'd like our government to better regulate, so this doesn't happen again!
We are praying that the devastation of this kind of event can lead to saner energy policies (though I also heard a conservative in Congress say that this spill will mean it will be harder to pass a climate change bill - that logic escapes me...).
The good news is that Grace's school and other Chicago public schools are raising money to buy solar panels for the schools, and that grade-school children are being educated about the benefits of solar and other alternative sources of energy. Good for them!
Grace (our President and 3rd grade teacher) says she'll still accept donations for her school, if you'd like to help. You can even donate via Peoples Church, on-line, if you mention in the comment line you want it to go for Grace's school. (see "Support Us" to the left)
Our interconnected web feels more and more interconnected - we need to do our part, as co-creators with God, if we want to keep this beautiful planet Earth alive for future generations of people, and shrimps, too!
peace,
Jean
"Spring Has Sprung"
(from the April newsletter)
We had a taste of spring a week ago – the air soft, the sun warming our faces, new bird song just audible through the storm windows, the grass starting to green up. The fact that it snowed on the Spring Equinox – the first day of spring – doesn't discourage us. We know winter is down for the count.
The Easter season is a time for thinking of new life, of fresh starts, of the resurrection of old projects lying around in our basements…or in our attics:

Peoples Church has lots of rooms upstairs where things are tucked away, and we've started investigating.

..

more
Thursday, April 1:
'Twas the night before Good Friday, and all through the house... We're gearing up for a busy - and powerful - weekend, and hope you'll join us for one of these events.
The letters to your Illinois state reps (at left, sidebar) are still in order! Illinois has sunk to 49th in state funding of education. That's pretty shameful. Ask for an income tax increase - it's the fair way to raise money for all the needed services that have been slashed... Among them Ceasefire, the excellent violence-de-escalating program that teaches teens to back off from violent response to perceived insults.
My husband Ken and I just got back from celebrating Passover with his mom out east - it was a warm and meaningful celebration of liberation, on many levels. If you've never been to a seder, try to go to one next year - we hope to celebrate the Shalom Center's Freedom Seder here next year - you can take a look at it, and lots of good words of wisdom, at their website, http://www.theshalomcenter.org/.
I've been negligent about writing here. Sorry. Gee, Mom, I promise to write more often!
peace, Jean
Thursday, November 25th: Happy Thanksgiving!
Yesterday Peoples Church hosted a wonderful Thanksgiving meal – thanks to a South side church group that comes every year, bringing turkey, dressing, and all the trimmings. We welcomed several hundred people, a few just wanting to share that special meal with others, but most of them homeless.

There is a poem of Rumi's, a 13th century mystic, that always reminds me that we don't really know the big picture. In "The Guest House," Rumi is talking about our inner selves, about welcoming one's own emotions – whatever they are – as if they were old friends or relatives, as if it were Thanksgiving. It's important work, in knowing ourselves and learning equanimity.

It ends like this,

The dark thought, the shame, the malice,


meet them at the door laughing,


and invite them in.

Be grateful for whoever comes,


because each has been sent


as a guide from beyond. [1]

I think Rumi's words are relevant not just to our inner selves – they apply equally to the people we encounter every day in our lives.

Peoples Church welcomed strangers in for a special meal yesterday. All the rest of the year, four times a week, we serve a good, hot lunch to about 130 people a day. If you have met Isaac, our lunch program coordinator, you know the heart and soul he pours into the program, and he makes sure that our guests get not only good food – like baked chicken, potatoes, green beans – but that they are treated with dignity, as human beings. Isaac encourages volunteers to just spend time with the guests, playing games or just talking with them.

We welcome the stranger.

We are grateful for your support, so that we can go on welcoming the stranger, and seeing in that stranger's face the face of an angel, the face of God, the face of our neighbor.

peace,
Jean


Monday, June 22, 2009: "The rich will always be with us..."
Wait a minute... Wasn't that "The poor will always be with us"?

My dad used to wax wroth over the large sums that athletes earned, and once when he complained about how many dollars an hour his plumber charged, I asked him, "How much an hour do you yourself make?" He wouldn't go there.

So when a clergy friend recently said, "Some people make too much money!" another responded that that would always be true, and we jokingly rephrased Jesus' words.

But why can't we dream of a time when no one is poor? It's within our capacity, as thinking and compassionate beings. The Scandinavian countries have dealt with poverty by transfer payments - by paying poor people, so they aren't as poor. Poverty is one social problem that is fixed by throwing money at it.

For example, Sweden pays for young people to go to college, and gives them credit for life experience, to encourage people who dropped out to go back and finish their education. It benefits society as a whole for as many people as possible to be productive citizens, to achieve a measure of success and happiness in a job. We are even healthier (all of us!) when the gap between rich and poor is smaller.

Way back in the early days of the church, people pooled their money, their possessions, and shared, so that those who had a lot to give did, and those who needed more, received. It was all about community.

These days, we don't know one another so well... We have seen too many e-letters from Ethiopian princes urging us to invest, so that they can release these billions of US dollars direct to our bank account. We don't trust the next guy. How can we be sure our gifts will not be squandered? How can we ask for help without arousing suspicion and feeling put down?

I'd love to see the day when we don't have to beg for help, when help is assumed, and people are not left anxiously waiting to see whether they will have a place to sleep or food to eat.

Right now, though, I'm very worried about the safety net we do have, and how rapidly it seems to be unraveling. Please contact your Illinois legislators and urge them to pass an income tax increase - to cover the budget shortfall and keep the proposed drastic cuts to social services from taking place.

Our elderly friends who rely on housing support, who need aides to visit during the week to help them with the most basic of tasks; our friends with mental illness whose income may be slashed, who may end up on the streets... For these people we pray that we act to encourage our legislators to take that unpopular act, and have the courage to raise taxes.

Here are sample letters (you'll have to fill in the blanks): to your Illinois state representative; to your Illinois senator. Better yet, telephone them, while they are in Springfield working on the budget this week.

peace,

Rev. Jean
March 30, 2009: Jesus walked the walk...
We are a Christian Unitarian-Universalist church - we see the teachings of Jesus as revolutionary, as life-changing, as counter-cultural - Jesus would not have said after 9/11, "Go, therefore, and make war on your enemies! And go ye also and spend money in the marketplace!"

He might have said, "Mourn those who have died; pray for those whose anger consumes them; stand up to those who make war; preach peace and reconciliation."

Some call this a "post-Christian" era, when the church has become obsolete, irrelevant; some say Christianity will teach all the world's religions to live in love and action for the poor.

I believe it's an era when all religions are learning from one another, when people from all over the world are teaching each other lessons forgotten in the mists of time. We are remembering to be human, to be humane; we are remembering that life is more than striving to get ahead, or struggling to put food on the table.

God is still speaking, and speaks in tattooed and pierced outsiders, in children's laughter, in crowds of people in a church demanding justice for immigrants, in waves crashing high into the air against the concrete lake shore, in homeless people lined up for a warm meal, in yellow crocuses poking their intrepid heads above the snow.

Courage! After the struggle, joy!

peace, Rev. Jean
March 2, 2009: A cure for resentment...
One of the very useful metaphors in the Bible is the notion of the desert - and how sometimes one has to wander there, in this place of emptiness, lacking creature comforts, lacking human society - a place where you are face to face only with yourself and with God.

The forty years that Moses and his people wandered there, on their way to the promised land... the forty days and nights Jesus fasted in the desert, when he was tempted by the Devil... the forty days and nights of rain that flooded the earth and rocked Noah's ark...

Forty represents a long time, long enough to die there - but short enough to anticipate the end of.

The Christian season of Lent - also forty days - is traditionally a time of sacrifice and reflection. With so many of us facing economic difficulties these days, it is easy to let "compassion fatigue" get the best of us, and close our hearts to the growing need around us.

Some of the resentment we may feel actually comes from our sense of helplessness in the face of so much pain - why is anyone looking to us to fix this, to help?

One sure-fire cure is to give anyway - to make some contribution, to help just a little. It relieves us of that nagging sense that we "should" be doing something, and more importantly, it puts us in touch with our underlying feelings.

If we want to be the kind of person who acts from the heart, then we need to practice. Buddhist teacher Thich Nhat Hanh tells us that when we feel stingiest, that's when we need to be the most generous in giving money away.

peace! Rev. Jean
Feb 9, 2009: Black History Month and nonviolence...
At Peoples Church we celebrate the Season for Nonviolence, that runs from January 30 to April 4th, the dates of the assassinations of Mahatma Gandhi and Martin Luther King, Jr. We try to keep in mind ways we can add to the peace of the world, in our personal lives and in our culture and in the world, from caring for the Earth by recycling to minding our tongues when we are upset about something. Sunday's admonition was: "Today, I will oppose injustice, not people." Our goal is not to place blame, but to encourage change - we're pragmatists, in our idealism!

But being peaceful can also mean rocking the boat when injustice reigns.

On Sunday we feted Dr. Joseph Lowery, who gave the benediction at President Obama's Inauguration, as a leading figure in Black History, and one who was and is a leader in the movement for nonviolent response to injustice. His prayer, in part:

Help us then, now, Lord, to work for that day when nation shall not lift up sword against nation, when tanks will be beaten into tractors, when every man and every woman shall sit under his or her own vine and fig tree, and none shall be afraid; when justice will roll down like waters and righteousness as a mighty stream.

I love that image of tanks beaten into tractors! May we be so blessed! And may we likewise find ways of turning our own private bullying into nurturing.

peace, Rev. Jean
January 19, 2009: A Time for Celebrating...
We're preparing for the Inauguration celebration tomorrow, a huge step forward on the path to Martin Luther King's dream, and to fulfilling America's founding vision of justice and equality for all. Our office is closed today in King's honor, and tomorrow we'll hook up the office computer to the internet to watch the Inauguration.
Yesterday at Sunday service we sang freedom songs and remembered the power of King's words and his courage in speaking out.

and for preparing...

We talked about what may be the next step on the path to civil rights, to human rights: doing something to lower the incarceration rate in this country, which rivals that of China and of the most totalitarian states around the world.
We listened to speaker Ra Chaka, who runs the Justice Center for Victims of Wrongful Convictions and Police Misconduct, a center "dedicated to restoring balance to the system by representing those who have been affected by abuse at the hands of law enforcement." No one wants to go to prison. But one out of four young African American men have been affected by the criminal justice system - in prison, on probation, or waiting trial - and over half of all prisoners are black, when they make up only 12% of the population. And Latinos come next.

Chaka told us that the system no longer trains people to re-enter civil society, as it once did - in fact, Illinois law now prohibits ex-felons from obtaining licenses for beautician, barber, and other services that prisoners used to get training in. In some states, felons lose the rights of citizenship, even after they are released.

Prisons have become big business, and in some states they are privatized and run by for-profit companies. Communities in downstate Illinois beef up their depressed economies by building prisons that will employ local people - which puts most prisoners far from their families, and further divides upstate and downstate in Illinois.

It's time to begin educating ourselves about this issue and the social ills that go with it. In this, a new era of unity and pragmatism, it's time to look for more effective ways to deal with crime. We need a better balance - not a tug of war between being "tough" or "soft" on crime, but a way to better address the needs both of victims and perpetrators. I invite you to take a look into "restorative justice" - a perspective that takes into account the concerns of both liberals and conservatives.

peace, Rev. Jean
November, 2008 Reprieve for REST emergency shelter
We are grateful that Ebenezer Lutheran Church voted on Sunday to open their doors to the homeless men left stranded by the closing of the emergency shelter at Epworth Church, which had hosted the shelter for over 20 years. This is a temporary situation, and not ideal, since Ebenezer has no showers. The city funding of the shelter was cut, and Ebenezer Church - and REST itself - need financial support to house and run the program. We'll keep you informed as the situation develops. But this step is a big relief!

Peoples Church is home to REST, the largest homeless services provider on the North side, which has been operating the emergency shelter at Epworth, as well as a women's shelter at another church nearby, and a men's shelter in our own Anderson Hall, downstairs. As the weather gets nastier, please consider supporting those organizations that are providing homeless people with the essentials of life, and helping them get back on their feet.
October 5th, 2008: another Uptown shelter closing...
We just found out that one of REST's two men's shelters is being closed by the church that has housed it for over a decade. The Sun-Times calls it a dispute over heating costs. We don't really know the reason, but it is another blow to the homeless people who live on the North side. We've heard that the city wants homeless people in our neighborhood to move to shelters on the West side or downtown. But people - even if they have no address - feel a connection to their neighborhood. You wouldn't normally ask a Southsider to move to the West side - can you expect people who are currently homeless to feel any different?

I wonder if this decision comes in part out of the tension between old and new residents in Uptown? We are planning to hold a gathering to consider how to build more community feeling and maintain the diverse character of the neighborhood.

What makes you feel connected to your community? Send me your thoughts - I'll post some of them here. minister@PeoplesChurchChicago.org

peace, Jean
September 30, 2008
Last Sunday we watched part of a June speech by Van Jones, the dynamite and oh, so "articulate" young man from Oakland who is bridging the divide between environmental and racial justice. A Yale law school graduate, he mentioned testifying before Congress to help get the Green Jobs Act passed in 2007, and having members of Congress come up to him and tell him how "articulate" he was - and yet, wasn't this an awfully expensive program? Each person from the 'hood would cost $15,000 to train, where if they trained "job ready" people it would only cost $3000. How could he justify this "waste" of money? Van had to bite his tongue.

Van Jones is working for a society with no "waste," like the factory that has zero pollutants: a society that doesn't leave anyone out, where all people are considered valuable potential participants. "If you don't invest in these youngsters," he said, "If you don't spend this $15,000 and give them some hope and some skills, then you're going to be spending $50, $60, $70 thousand locking them up, forever!"

After the service, we had lunch - a great potluck - and talked about what Van had said, and our responses to it. People mentioned hope, and the power of not leaving anyone out, and how moving it was to hear him talk about the indigenous peoples of the world, and how much we need their wisdom about caring for the Earth.

It was moving for me to be part of this sacred conversation. We are just learning how to be with one another around difficult subjects, and to be honest and respectful and true to ourselves. It is sacred because it touches our hearts so deeply, because to talk about things that have been hidden away is to shine a healing light on them.

In the gospel of Thomas Jesus says, "If you bring forth what is within you, what you have will save you. If you do not have that within you, what you do not have within you [will] kill you." G.Th. 70 (Patterson and Meyer trans.)

I like to think this saying means that we shouldn't keep things bottled up inside - it's poison!

If you want to watch the whole speech by Van Jones, it's on the UUA website: http://www.uua.org/events/generalassembly/2008/112314.shtml

Don't miss the next Sacred Conversation, October 26th, when Keith Scott, organizer and former zoo educator, talks about the intersection between the criminal justice system and race.

peace, Jean
September 19, 2008
I read an amazing little essay by Deepak Chopra, talking about our national psyche and how it is being played out in the Presidential election... dovetails with what I was talking about last week, about the wicked witch and how she expresses our darkest desires for revenge, even while we can disclaim her.

This Sunday, we'll celebrate the Fall Equinox - the moment of equal light and dark, the change from summer to fall, the anticipation of winter. And how light and dark play out in our lives.

peace, Jean
September 11, 2008
Seven years after the horrific events of September 11, 2001, we seem to be caught in a time-warp, as the Bush administration wages a "war against terrorism" that they are now calling "generational" - that is, they expect it to drag on for at least a generation. I wish the mainstream media were more willing to question the assumptions Washington is operating under - if alternatives to war were presented seriously, people would have something to think about, be able to make an informed choice.

I heard a powerful interview on NPR (Terry Gross) with Andrew Bacevich, military man turned history professor, author of a number of books, most recently, The Limits of Power: The End of American Exceptionalism, in which he stresses the destructiveness of belligerence as foreign policy and the value of openness - not secrecy - in how our government ought to operate. I hope everyone gets a chance to hear Bacevich when he comes to Chicago on his book tour, October 12-14.

We are still digesting the events of 9/11 - we can find some meaning in that senseless destruction, through hearing the stories of survivors - how we as human beings dealt with the unthinkable. Would we also have been the ones in the cafeteria saying, "But what about my eggs?" as the manager tried to get her employees to shut down the cooking line and evacuate the building? No knowing, of course - but how human!

Many of us yearn for the feeling of safety we used to feel before that day in September seven years ago. I hope we can realize collectively that security is a false wish - living in a bunker is not what I would call living. We are safer - more resilient as a people - if we can come together to live life fully in a community that offers the most in freedom and shared responsibility, to make sense of whatever happens - to share the stories.

peace,

Jean
for other musings, see the Newsletter